10 Sep

Crocker Park Tours: Wine Walk Patio Edition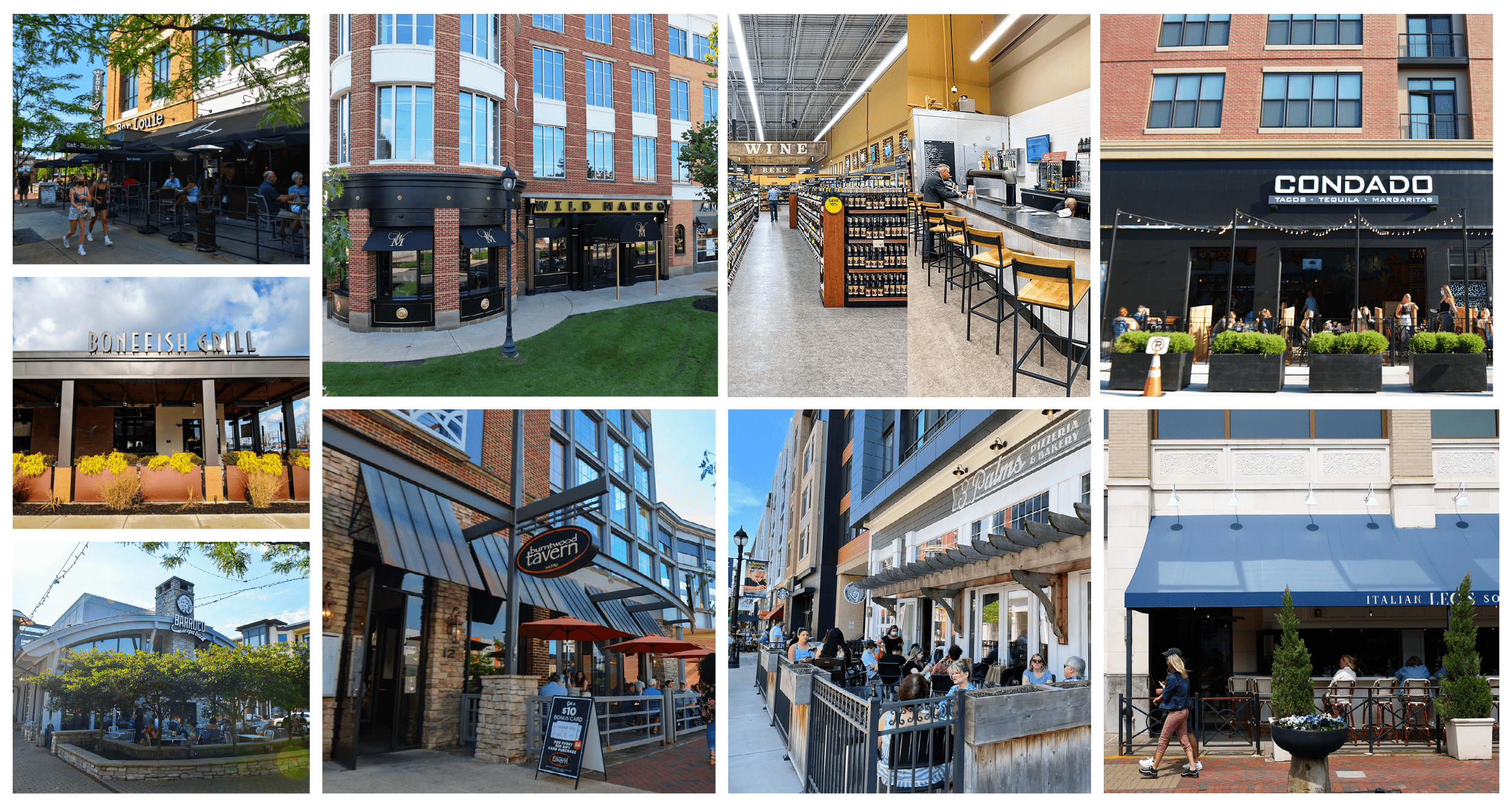 Sep 10, 2021
Crocker Park Tours: Wine Walk Patio Edition
Can't wait for Crocker Park's upcoming Wine Festival Sept 17-18? Stroll through Crocker Park and follow this self-guided Wine Walk Patio tour!
1. 3 Palms Pizzeria
We started our first wine walk heading into "Wine Festival" season on a beautiful Saturday afternoon. Sun was shining, low humidity and the ideal day for a patio. We decided to start by walking the Fitness Loop sponsored by Allstate, Laura Rohrbach Agency, which begins right in front of buybuyBABY. As we started walking, we immediately had to stop at 3 Palms, which has both an outdoor patio and an outdoor covered bar. As we sat deciding which meatball we should order with our salad, we enjoyed a crisp and light Sauvignon Blanc. It was truly the ideal way to start our wine walk
2. Condado
Our next stop was at the delicious and aroma inducing Condado Tacos. They have a beautiful, widespread patio that pokes into the sidewalk, so you feel completely immersed with the community. We switched it up from our usual classic margarita for their sangria. We chose white sangria which was infused with peaches, pineapple, and their house white wine. So refreshing and fruity for a summer afternoon. We will certainly be coming back and trying their red sangria made with their red house wine for a Fall treat!
3. Barroco
We headed out of Condado and did a little shopping on Main Street, (hello Athleta, Anthropologie, Gap!) and headed to Barocco. Not only do they have insanely delicious Latin food like our favorite – their Arepas! But the vibe and style truly is electric the moment you walk in. They have insanely bright and fun décor, and a patio overlooking the West Park lawn, where we found a perfect seat. We decided to try one of their Spanish reds, Rioja red wine and the rich and bold flavor was the ideal way to overlook the grass and relax. We felt a burst of energy to head to our next location with the live music they have all weekend long and the fun atmosphere they exude.
4. Leo's Italian Social
Our next stop was Leo's Italian Social, located across from Center Circle. This beautiful and simplistic restaurant is one you do not want to miss! A laid-back vibe with excellent food, they too have a beautiful outdoor patio overlooking the park, with a bar that allows you to sit both inside and outside, covered. We sat down at the outdoor bar portion and were immediately drawn to their martini list (they have live music & martinis for $5 every Thursday!) but decided to stick with the wine theme and order a crisp rosé. It truly was so relaxing to be outside at a bar, with the breeze coming in and drinking our favorite summer drink. Their wine list is very impressive, with national and international types to choose from! Next time, we will be pairing our wine with one of their cauliflower crust pizzas!
5. Burntwood Tavern
Finishing up at Leo's, we headed to their sister concept, Burntwood Tavern. With a wraparound patio that included tables and soft seating, we decided to sit in one of the comfy, oversized chairs and look at the drink menu. Lucky for us, it was happy hour (daily from 3pm-6pm)! We ordered the Tavern Chardonnay and were able to sit back and snap an Instagram worthy photo of our wine glass and Crocker in the background. Their Tavern red and white wines are delicious – would highly recommend them all for an affordable and delicious glass of wine.
6. Bar Louie
Next stop across the street was Bar Louie, where we got a high-top table on their patio. We decided to get their Pineapple Express "spiked" sangria with pineapple SKYY vodka, watermelon, lime, and prosecco. Wow was this bright and yummy! They have three varieties of these spiked sangrias, we would highly recommend giving one a try for a different take on your usual glass of wine.
7. Yard House
On to Yard House, which has a patio beautifully covered and closed in with flowers. We took a seat by a TV (the Olympics were on so this was a must!) and we looked at their extensive menu. While putting in an order of their chicken nachos (our favorite!), we ordered a glass of their prosecco to carry on the sparkling theme from Bar Louie, and it was so refreshing! Perfect pairing with the chicken nachos.
8. Bonefish Grill
After we were full from the nachos, we headed to Bonefish Grill. Perfectly tucked away next to Comet Alley and sat at their covered patio. We were not sure exactly what we wanted, so we looked at the menu and were instantly drawn to their Three Thieves red blend. It was the perfect wind down drink as we neared the end of our "wine walk".
9. Market District
Loving so many of the wines we tried today, we decided to stop into Market District to peer at their extensive wine collection to see if we could bring some home with us. We made a pit stop at their beautiful bar right inside the liquor section of the store and sat down to taste a few new wines on their "tap". What could be better than going to the grocery store and stopping for a glass of wine before or after (or even in between!) shopping trips?! Market District is a sponsor of our annual Wine Festival, so they sure know a thing or two about wine.
10. Wild Mango
Our very last stop on the journey was to newly opened Wild Mango! Located in East Park across from the Roche Wealth Management of Raymond James Stage, this restaurant owned by local chef and entrepreneur, Jia Wei, is truly a sight to see. We were ecstatic to be meeting friends for dinner here. As we walked in, you could tell this place was special. We sat at the bar as we waited for friends and ordered our favorite red wine … pinot noir! The restaurant is truly exquisite – the attention to detail in both the aesthetic and the exceptional menu made for the perfect end to our day!
Love wine as much as we do? Be sure to check out the 10th Anniversary of the Crocker Park Wine Festival coming September 17-18 (it's a wine lover's dream! 😊). Tickets on sale at www.crockerparkwinefestival.com.