09 Aug

Le Gray Haus Dog Boutique NOW OPEN

Le Gray Haus Dog Boutique NOW OPEN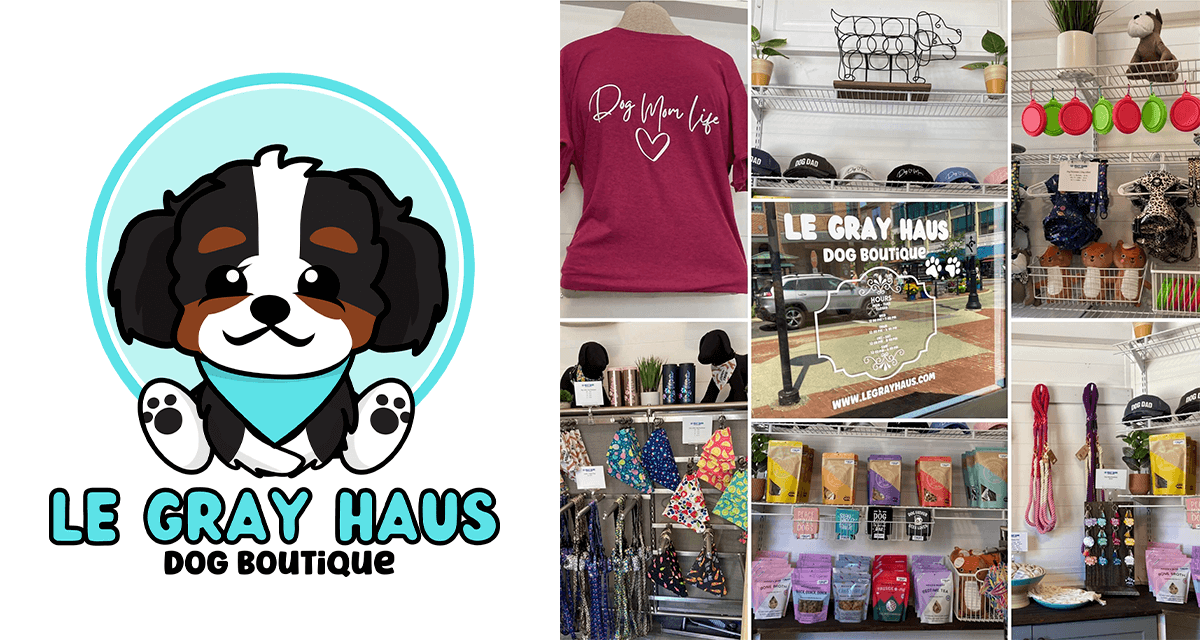 Aug 7, 2021
Calling All Dog Lovers! Le Gray Haus Dog Boutique NOW OPEN In Crocker Park
New Pop-Up Shop Located In Center Circle
Now open for all four-legged friends and their owners, family-owned dog boutique, Le Gray Haus, is ready to welcome you to their dog oasis. From treats to unique apparel, accessories, and a doggone fun place for your pup to hang out, Le Gray Haus Dog Boutique has something to make every dog's tail wag with excitement.
Le Gray Haus is a locally owned and operated dog boutique, owned by Eden & Keith, with their four-legged family member, Leia. They started their first business in 2017, making precious gemstone jewelry where when 2020 hit, they decided to pivot to sewing masks to help the community stay protected against the global pandemic. Finding a love for sewing, Eden & Keith began making bandanas for their pup, Leia, where the idea of Le Gray was born! The boutique offers unique apparel and accessories as well as wholesome dog treats and trendy toys- so every dog can find something they will love. Additionally, two legged visitors will find items they love including handmade dog bandanas, bow ties, fashionable harnesses, collars, leashes and so much more!
"Crocker Park is pet-friendly, and we love nothing more than seeing visitors bring their four-legged friends with them to stroll, shop and dine," said Stacie Schmidt, Vice President of Marketing & Communications for Stark Enterprises. "Le Gray Haus Dog Boutique is that perfect local shop that will have everything your dog needs (& wants) and is such a fun place to have your pooch in tow too! We are thrilled to welcome them to Crocker Park!"
Le Gray Haus Dog Boutique pop-up shop is now open at 189 Crocker Park Blvd across from Center Circle, and hours of operation are Wednesday, 12pm-7pm, Thursday, 12pm-6pm, Friday-Saturday, 12pm-8pm and Sunday, 12pm-5pm. To stay up to date on all the new additions and happenings coming to Crocker Park, visit crockerpark.com and follow @CrockerPark on Facebook, Instagram, and Twitter.