01 Oct

Food Truck Challenge Is Back Tomorrow

Food Truck Challenge Is Back Tomorrow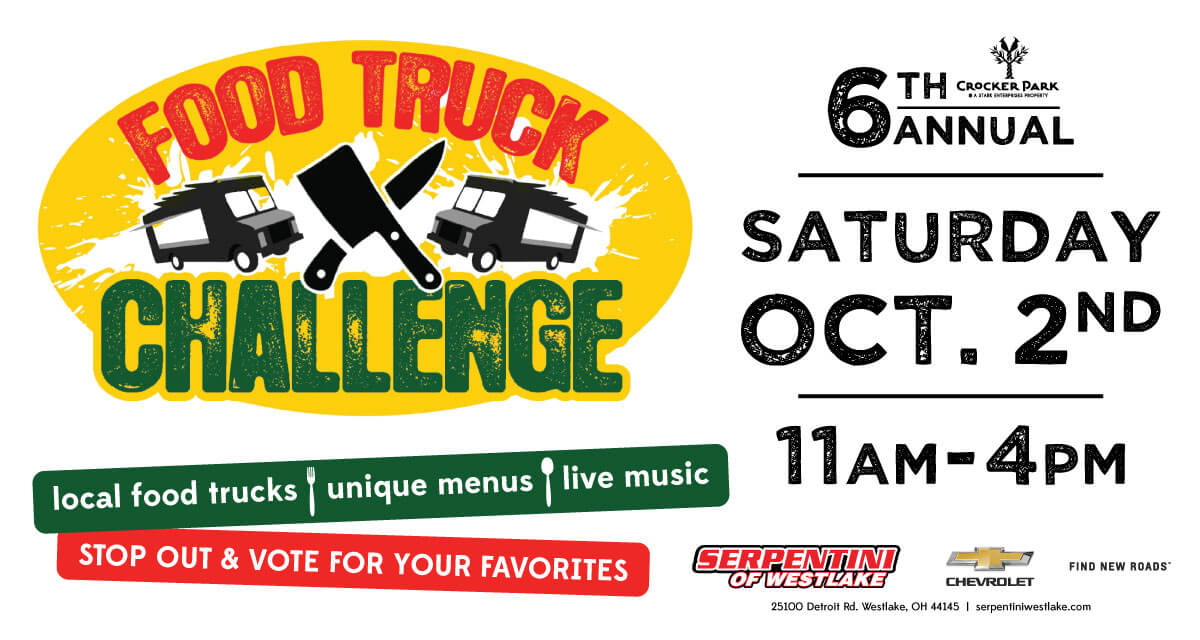 Oct 1, 2021
Foodies Rejoice! Crocker Park's Food Truck Challenge Is Back Saturday, October 2
Attendees & Celebrity Judges Will Taste Test In Several Categories From 11am-4pm
Calling all food lovers, Crocker Park will host their sixth annual Food Truck Challenge sponsored by Serpentini of Westlake on Saturday, October 2 from 11am-4pm. Cleveland's best food trucks will be lining up on Crocker Park's Main Street to compete to win one of the "best of…" categories being judged.
This fun and competitive event hosts an impressive list of food trucks all offering special and unique menu options beginning at 11am. During the event, visitors will have the opportunity to participate by picking up a ballot at the designated voting station, trying as many food truck menu items as they would like, and submitting a voting ballot before 3pm (one per person).
Participating Trucks:
• Casino Café
• Chapati Indian Grill
• Enticing Cupcakes
• Fired Up Taco
• Kona Ice
• The Original Steaks & Hoagies
• Samurai Dynasty
• Smokin' Rock n Roll
• Smooth Rider
• Smoothie Shack
• Swenson's
Categories Include:•
• Best Sandwich/Wrap
• Best Vegetarian Dish
• Best Through A Straw
• Best Dessert
• Best On A Plate
• Friendliest Truck
• People's Choice Awards
• Judges' Best In Show
"Cleveland is a major foodie town, and we can't think of a better way to celebrate that then with the annual Food Truck Challenge with the support of our local car dealership Serpentini of Westlake," said Stacie Schmidt, Vice President of Marketing and Communications at Stark Enterprises. "The collaborative efforts of our local area food trucks and the community to support these local businesses and host some healthy competition is the perfect way to continue to support our small businesses here at Crocker Park!"
The Food Truck Challenge sponsored by Serpentini of Westlake is free to the public and will also include live music SIMPLE, kid-friendly activities and a vendor village. Winners will be crowned in the eight categories beginning at 2:45pm by a panel of guest judges and local foodies including Westlake's Mayor Clough and WKYC's Jasmine Monroe, as well as Anne Nickoloff and Hayden Grove from Cleveland.com! .
For more information on this event and all other events taking place this fall at Crocker Park, visit crockerpark.com/ftc and follow @CrockerPark on Facebook, Instagram and Twitter.